Crazy Cake.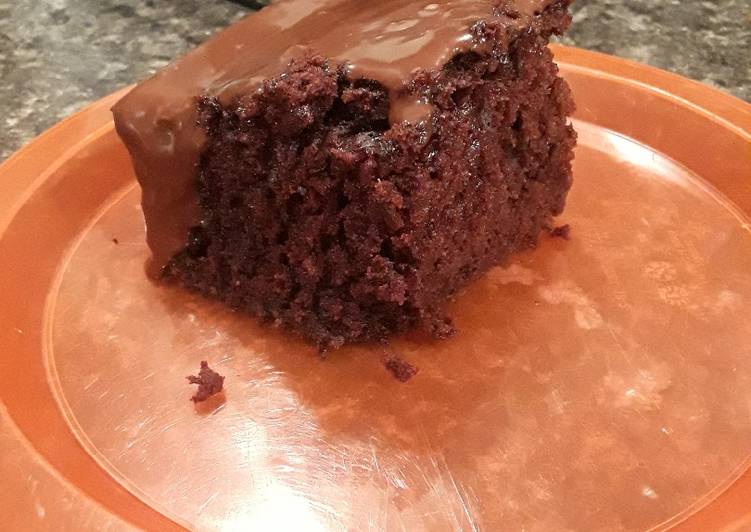 You can have Crazy Cake using 16 ingredients and 3 steps. Here is how you achieve that.
Ingredients of Crazy Cake
You need of Cake Ingredients:.
It's 1 1/2 cup of all purpose flour.
It's 1 cup of granulated sugar.
It's 1/3 cup of natural unsweetened cocoa powder.
Prepare 1 tsp. of baking soda.
It's 1/2 tsp. of salt.
You need 1 cup of water.
It's 1/3 cup of vegetable oil (or canola oil).
Prepare 1 tbsp. of white vinegar.
You need 1 tsp. of vanilla extract.
You need of Icing Ingredients:.
You need 1 1/2 cup of confectioners sugar.
Prepare 1/4 cup of natural unsweetened cocoa powder.
You need 2 tbsp. of water.
It's 2 tsp. of vanilla extract.
It's 1/8 tsp. of salt.
Crazy Cake step by step
Preheat your oven to 350°F. Grease an 8x8" glass baking pan and set it aside (if you have an aluminum pan, line it with parchment paper to avoid a metallic taste)..
In a large bowl, whisk together the flour, sugar, cocoa powder, baking soda and salt. Create a well in the center and add the water, oil, vinegar and vanilla. Stir it all together until just combined and the batter is smooth. Pour the batter into the prepared baking pan. Bake for 30-35 minutes, or until a toothpick inserted into the center comes out clean. Set the pan on a wire rack to cool it before frosting..
For the icing: whisk together all the icing ingredients in a medium bowl until smooth. It should be thick and fudgy, but still spreadable. If it's too thick, add more water 1 tsp at a time until you get the right consistency. Once the cake is completely cooled, gently spread the icing over the top, then slice the cake into squares and serve..