Lemon Pound Cake with a Simple Lemon Glaze.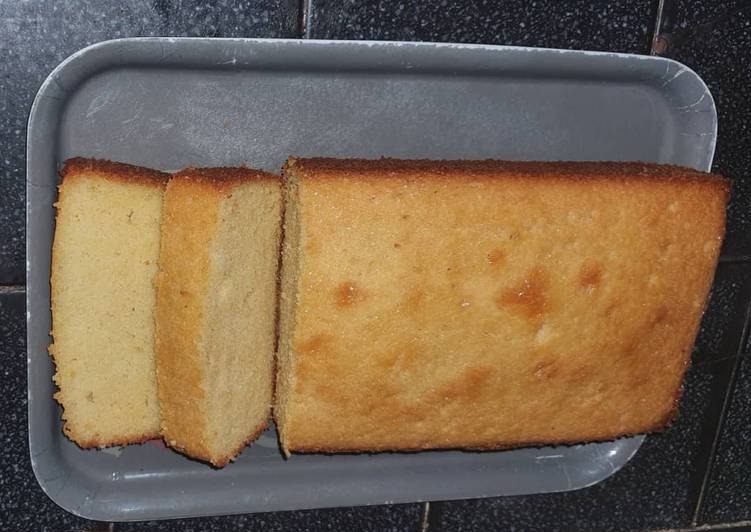 You can have Lemon Pound Cake with a Simple Lemon Glaze using 13 ingredients and 10 steps. Here is how you cook it.
Ingredients of Lemon Pound Cake with a Simple Lemon Glaze
Prepare 1 of and 1/2 cup all-purpose flour.
It's 3/4 cup of granulated sugar.
It's 1 tsp of baking powder.
It's 1/8 tsp of salt.
Prepare 1 cup of unsalted butter, at room temperature.
It's 4 of large eggs, at room temperature.
Prepare 2 tbsp of fresh lemon juice.
Prepare 1/3 cup of whole milk.
Prepare 1 tsp of vanilla extract.
Prepare of Lemon glaze.
It's 2 tbsp of fresh lemon juice.
It's 1/4 cup of granulated sugar.
It's 1 tbsp of water.
Lemon Pound Cake with a Simple Lemon Glaze step by step
In a large mixing bowl, combine the butter and sugar and beat with an electric mixer on medium speed for 5 minutes, scraping down the sides of the bowl as and when needed and until the mixture is a paler colour and sugar is dissolved or almost fully dissolved..
Next, crack the eggs into a bowl and beat with a fork just until the whites and yolks are well combined..
To the sugar butter mixture, add in the eggs in 4 parts beating for about 50 seconds after each addition. To that, add in the milk, vanilla and lemon juice and beat for another 30 seconds on medium speed until everything is well combined..
After, sift in the flour, baking powder and salt, and on low speed, beat until a smooth and thick but light batter is formed. With a spatula, give the batter a quick mix to ensure everything is well incorporated..
Pour the cake batter into a greased 5 × 9 inch loaf pan and tap afew times on the counter to get rid of any air bubbles..
Bake in a preheated oven at 325 degrees fahrenheit on the center rack for 40 minutes and then move to the top rack for an additional 20 minutes. After 60 minutes, a toothpick inserted should come out clean, if not, put the oven off but leave the cake in for 10 minutes, it should be done by then..
While the cake cools, combine all the ingredients for the glaze in a medium saucepan over medium low heat and cook until the sugar fully dissolves..
With a toothpick or a bamboo skewer, poke random holes all over the surface of the cake and pour the glaze all over the cake. Let the cake cool in the pan for about 20 minutes and then run a knife around the edges to take it out..
Place on a serving platter and serve warm. I found caramel sauce goes well with this cake but is delicious as is as well..
This cake keeps well in the refrigerator for up to 4 days in an airtight container and can also be frozen for up to 2 weeks in cling film and then foil. Happy baking!.